The Box, Epping - Supporting Young People
The Box is a small local charity providing services for young people in the Epping area since 2005, including:

a safe social space after school offering activities and advice
a professional counselling service for young people
dedicated clubs for young people needing extra help and support
Open Box Education Centre is registered as an independent school with the DfE and provides a full time education programme for 14-16s, offering a range of GCSEs and other qualifications as an alternative to permanent exclusion. Visit their website here.
The Box and Open Box Education Centre are situated on St John's Road in Epping, next door to the library. You can contact us on 01992 577 300.
Drop-in social space for young people aged 11-16 during term-time.
Drop in with your friends, play X-Box, table-tennis, board games, try a craft, get support for your homework, listen to music, have a cup of tea, a slice of toast and a chat.
Tues, Wed, Thurs 3:15-5:30pm
A small professional counselling service is available for young people aged 11-18 years.
Please note that we are not currently taking referrals for our counselling service while we manage the waiting list.
'Second2None' is a social club for young adults aged 16-25 years with additional needs. Activities include board games, crafts, table-tennis, DVDs, food, internet access and help & support with job and college applications.
EPYC is 'Epic'! This group is for any young people in Years 7-11 from the local churches, their friends or any young person who wants to find out more. The group meets fortnightly for games, activities, music and faith chat.

You gave my son the biggest second chance in life, and thank God he took it.
The Box helps me calm down, it gives me a place to have fun and it is a place to meet up with my friends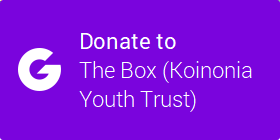 The Box has been funded by the generosity of the local community since it opened in 2005.
Please help us to continue this vital work into the future.
Please make a donation by clicking on the link above or by sending a cheque made payable to "The Box" to The Box, St John's Road, Epping, Essex, CM16 5DN.